Help:TRS2019 Driver
From TrainzOnline
Driver mode allows you to take control and drive a train in either a pre-made session, a session you have created, or in a Quick Drive session. Or you can give the AI control, and watch as the trains go by.
Routes Menu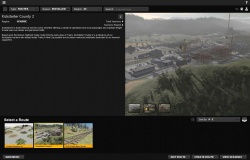 The Routes menu, part of TRS19's new Thumbnails Menu is your start point for accessing Driver mode. From here you can load, create or edit sessions.
To access sessions, first select the route you wish to drive, then click on 'View Sessions'.
Every route will show a Quick Drive session. These are a "Sand-box" mode which allows you to place trains anywhere on the route using the Train Tab, then drive yourself or set up complesx AI schedules for your trains.
In addition, the route may have pre-made sessions or saved sessions listed. To load one of these sessions, select the session then click on 'Drive Session'.
Sessions
Each default route in Trainz will include a selection of pre-made sessions. These sessions will give you instructions in various forms to complete activities around the route (such as driving a passenger train to a timetable, or complex switching of freight trains).
You can create or edit sessions using the Create Session and Edit Session buttons in the Routes Menu. A session can be as simple as a few trains placed on a map that you can drive, through to a full 'activity' based session with operating AI trains, or anything between!
You can find more information on creating sessions in How to create a Session link title The Engines of Hatt - The Mappings of Sodor Island carson08022000 Routes World Routes
Quick Drive
The Quick Drive 'session' allows you to load the route directly into Driver without needing to create a new session.
You will be presented with the Trains Tab when Driver first loads, allowing you to place any installed trains onto the tracks on the route.
TRS19 Driver UI
TRS19 introduces a brand new Driver UI (User Interface), offering a new cleaner look with a greater range of options and details available. Our TRS19 Driver UI page gives you all the information you require!
Rail Driver
TRS19 fully supports the Rail Driver hardware control by PI Engineering.
You can find a guide for installing and configuring the Rail Driver for TRS19 on the Rail Driver page.
Other Topics

Go back to: TRS19 Help