Help:Mobile Main Menu:Get New Content
From TrainzOnline
The "Get New Content" menu provides options to install new content, or share your own locally-built content. There are three tabs available.
Paid
The first tab, "Paid", lists any payware DLC which has been made available and which is not currently installed on your device.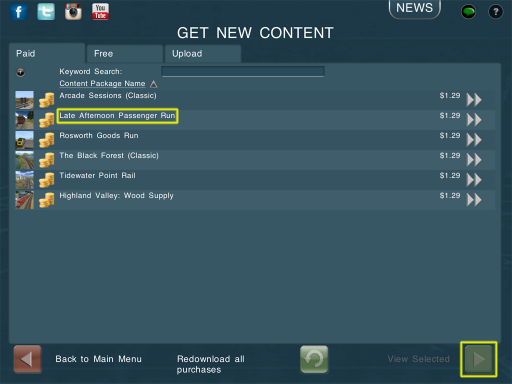 Note: Search not available in Trainz Driver 2 version.
Select any payware item and click the "View Selected" button to review the item or purchase.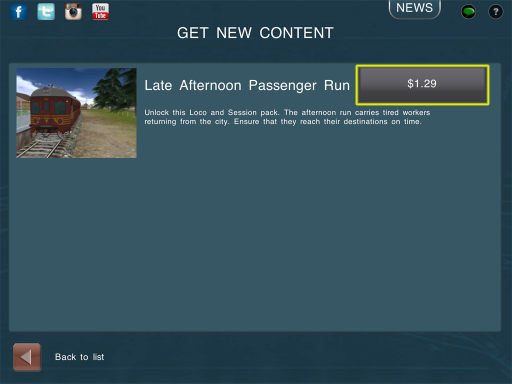 [[[Link title] ==
---
Headline text
---
--Spudge (talk) 01:15, 20 May 2020 (AEST)''trainz
Bold text
[[File:Example.jpg]] == ]]

If you're ready to purchase, tap the purchase button (outlined in the following screenshot.) Prices are displayed in your local currency as specified in your device's store settings. Your purchase will be confirmed before proceeding, so don't panic about any mistakes.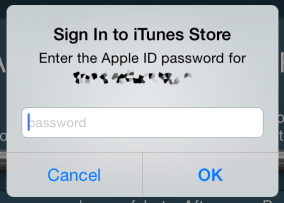 You'll need to authorise the purchase by entering your device's store account details.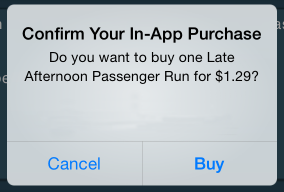 You'll be asked to confirm the purchase. Please check that the item details are correct, as proceeding past this point will charge your store account.
If you've already purchased the content, you will never be charged a second time. Instead, the device will prompt you to re-download for free.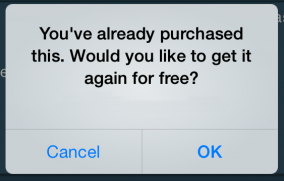 Once the purchase has been confirmed, which could take a few seconds, a download prompt will appear. If you have multiple items available for download, they may appear individually over the course of a few seconds. Once they're showing in the download list, select "Download All" to install all available payware for your device.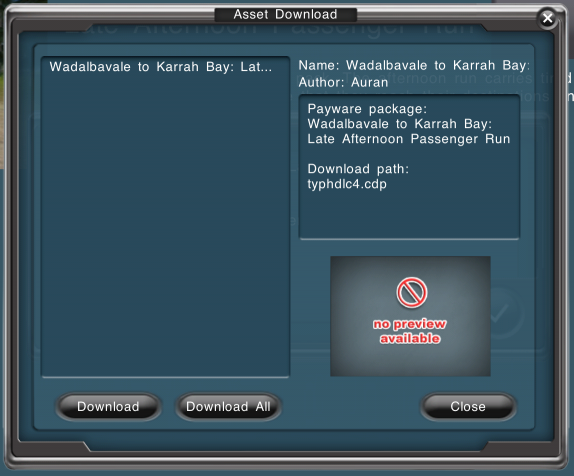 If you opt to skip some downloads, you can always repeat the install later by tapping the "Redownload all purchases" button at the bottom of the Get New Content menu.
Once your content has been downloaded, it is available from the "Select Route" menu (if a route or session) or from the Railyard Menu and Surveyor Object Tools if a train vehicle.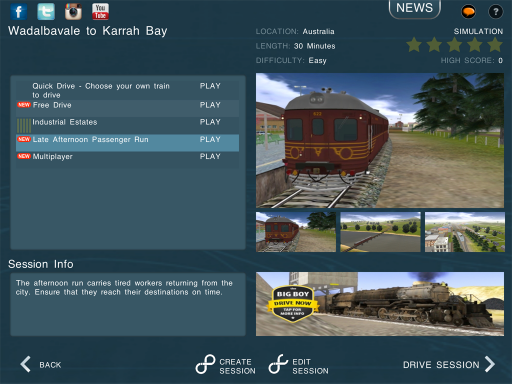 Free
The second tab, "Free", lists payware DLC which has been uploaded to the Trainz Download Station by other users.
Note: Search not available in Trainz Driver 2 version.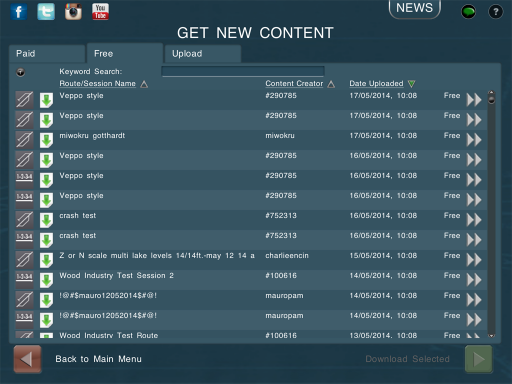 Upload
The third and final tab, "Uploads", allows you to upload your locally-created routes and sessions to the Trainz Download Station.
This allows you to transfer your content between your devices, store completed routes in case of accidental deletion, and permits other users to try out your creations.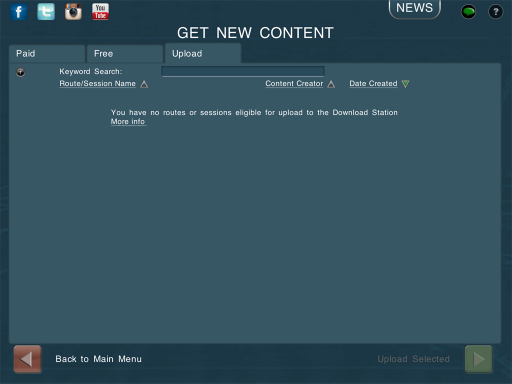 Uploading requires that you are logged in to your Planet Auran account, and the Download Station servers may take up to 48 hours to process your uploads before they are visible to other users.
Please be sure that you only upload content which is your own property- if you upload content created by another user and they file a complaint, the content may be removed and in some cases you may be blocked from further uploads.
Other Topics
Select the area within Trainz Mobile you want to explore.

View help for a different platform

Go back to: Platform-mobile