Help:TRS19
From TrainzOnline
This will be our main TRS19 help page which will serve as an index for TRS19 specific help and to link to Trainz general help.

Trainz Railroad Simulator 2019 Introduction Trainz Railroad Simulator 2019 (TRS2019), due to be released in Q4 2018, builds upon the Trainz A New Era (TANE) version released in May 2015 (and regularly updated since then).
See the TRS19 page for details on the new features to TRS2019.
Downloading TRS2019
For information and help on downloading the full version of TRS19 click here: Help:Downloading
Installing TRS2019
For information and help on installing the full version of TRS19 click here:Help:Installation
Getting Started with TRS2019
+ Click to show/hide Getting Started with TRS2019
After you have installed TRS2019, you will see a shortcut for TRS2019 appear on your desktop. Double click this to open the launcher screen.
TRS2019 Launcher Screen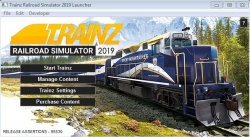 The initial launch screen is your start point for Trainz, providing access to Trainz itself, as well as Trainz Content (content manager), Trainz Settings, and more. See TRS19 Launcher for more information on the launcher screen.
Before you can start Trainz, you will need to enter your login details into Trainz. To do this, click on 'Trainz Settings', then click on the 'Internet' tab. Now enter your username and password, then press enter. Please Note: Your username and password are case sensitive.
See Trainz Settings for further information on the Trainz Settings window.
Now close the Trainz Settings, and click on Start Trainz.
TRS2019 Main Menu
You will now see Trainz itself load into the Main Menu. This menu provides access to Driver/Surveyor, and the Tutorials in Trainz. To get started, we recommend first playing through the tutorials; click on 'Learn To Drive' to access these.
See the Using the Main Menu page for further information on how to load Driver and Surveyor modes, as well as the other options on the Main Menu!
Performance Configurator
Need help deciding which of the preset performance options to choose from? Visit our Help:Performance Configurator page.
+ Click to show/hide Getting Started with TRS2019
TRS19 Driver UI
TRS19 introduces a range of new UI (User Interface) options. Our Help:TRS19 Driver UI gives you all the information you require.
Trainz Content
Trainz provides tools for you to create your own routes, update existing routes, to download additional content from the Download Station, and much more!
+ Click to show/hide Getting Started with Trainz Content
Managing and Downloading Content
In-game Downloading
Importing Content From Other Trainz Versions
Updating A Route to TRS19 Standards
Bulk Updating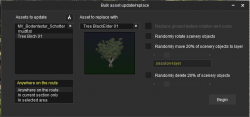 Using Effect Layers
+ Click to show/hide Getting Started with Trainz Content
Trainz Searchable KnowledgeBase
If you require help with installation, downloads, account login etc, the please check our KnowledgeBase.
Trainz Support Website
If you have a specific problem that requires personal assistance, please contact Helpdesk through our Support Website.
TRS19 category on the Wiki
You can find many more topics for TRS19 in the [TRS19 Category].
Trainz Forums
The Trainz forums are a discussion forum for all members of the Trainz community to discuss all topics relating to Trainz. The forums can be found [here]
Return to TRS19 Home Page