Help:TRS19 Launcher
From TrainzOnline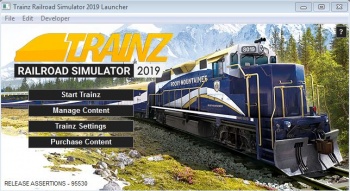 Start Trainz
This button requires little explanation. Clicking this button will open a new game window. You can open multiple game windows, but each window requires additional computer resources so use with care.
Manage Content
The Manage Content button provides access to the Trainz Content (content manager) tool; which is used to download and manage the content for Trainz.
See Content Manager for information on the Trainz Content tool.
Trainz Settings
The Trainz Settings provides a range of options to configure your Trainz installation; including Local Data location, performance settings, your login details and more.
See Trainz Settings for information on the Trainz Settings.
Purchase Content
This menu lists items available for purchase from the Trainz Store.
File Menu
This menu provides a quick way to access a number of useful links and options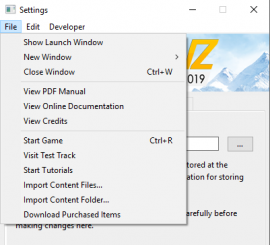 Developer Menu
This option is used for various advanced tools such as TrainzUtil, Rebuild Database, Show Logs etc, as well as a number of debug options.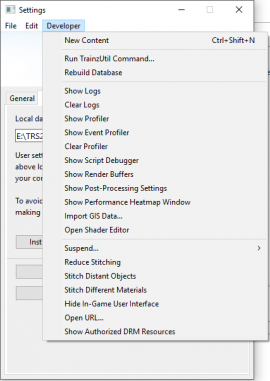 Other Topics

Go back to: TRS19 Help