Main Page
From TrainzOnline
Welcome to the TrainzOnline Wiki!
This site is accessible both from within the Trainz Online embedded browser, and externally via a regular web browser. Trainz content creators should feel free to add their own pages to this site, however please be sure to keep page names distinct and meaningful. Pages with ambiguous names that are likely to conflict with other uses will be renamed or removed.
Help Pages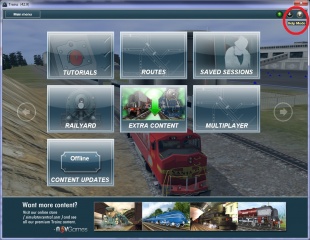 The
TrainzOnline Help pages
are accessible using the
(?) button
from the game's menu bar. These pages explain the function of each part of the user interface, such as what happens when you click on a particular button in-game.
Please be aware that the wiki is a source of information, similar to a book. It is not intended as an interactive chat or helpdesk. If you require assistance with a specific area, please contact our helpdesk at <http://support.auran.com>. Edits which take the form of general questions will be deleted.
How-To Guides
The HowToGuides are a series of documents describing how to achieve various tasks within the Trainz environment. It covers a broad range of topics suitable for beginner users through to experienced content creators. Each guide covers a specific topic in detail and explains all the steps required to achieve a task, such as HowTo/Create a session.
Community
New users should visit the Trainz Forums for beginner advice and friendly banter.
Content Creation
Dedicated content creation information may be found at the Content Creation pages. These pages are targeted for intermediate-to-advanced users, and explain the theory behind the formation of various types of content.
Localized Content