Help:Main Page
From TrainzOnline
This page provides links to various core areas of Trainz Online help. Wiki pages prefixed with "Help:" are used to provide in-game help content, but the pages are also accessible from your browser.
Game Help Main Page
Using Trainz online help is easy once you know how. There are multiple ways to achieve the same goal and understanding how the wiki site works will help you get the most out of your search for help.
Right now you are on the Help:Main Page - you can see the page title in the URL at the top of the page. From here you can drill down to access most other Help Pages.
Listed below are some of the main categories of Help. Click on any of these or type in a search term in the left hand margin of the browser.
To return to this page at any time, click on the "Game Help Main Page" navigation link in the left hand margin.
In-game Help
When inside Trainz (from TS2009 onwards), you can access context-sensitive help using the (?) icon on the top right of the menubar. You can also use the Search field in-game to jump directly to a topic.
Trainz Plus
The latest feature available in Trainz Plus is Surveyor 2.0. The online guide can be found here.
Trainz Railroad Simulator 2022
The core functionality of TRS22 remains the same as for TRS19. A number of features have been incorporated from Trainz Plus such as new Cameras, "Unified Driver Surveyor", and the Bulk Replacement Tools.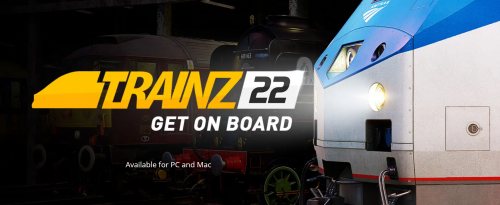 Trainz Railroad Simulator 2019
Quick Links
Choose from the following broad category headings, or type a specific term in the Search box:
Trainz A New Era
Quick Links
Choose from the following broad category headings, or type a specific term in the Search box:
Third-party Content Help
Third-party content creators may also provide custom help pages which are referenced from their content. These pages may provide details on the specific content item, information on other content by that creator, or instructions on using the content's user interface, as appropriate.
Other Help Options
Sometimes the Game Help will tell you about a certain button or function, but you are still not sure exactly what, how or why you are meant to use the function. This is when the HowToGuides become very useful. Use these guides to learn in more detail how to use various Trainz tools and functions, and even how to create your own objects.
Adding to the Trainz Wiki
The Trainz Online help site is a MediaWiki site and accepts informational articles from all Trainz users. This means that the site is always being updated. If you would like to contribute your own information by adding to the wiki, please see the official MediaWiki documentation Help:Contents page.