Help talk:TANE General FAQs
From TrainzOnline
This page is designed to provide a central location for hints and tips and to find out more information about current "known issues" with Trainz: A New Era.
Questions from the forums
This section is to highlight questions that are asked frequently on the Trainz forums.

Q. When will T:ANE be released?
A. The retail version will appear in store in Europe, USA and Australasia on May 15, 2015. These releases are being handled by our various publishing partners. The retail version will be released on the same day via Simulator Central, MyTrainz and STEAM store. The Mac version will follow as soon as possible after May 15 on Apple Mac store and other Mac stores such as SimC and Steam.

Q. Can I upgrade from my "Community Edition" version of T:ANE?
A. For Simulator Central/MyTrainz users there will be an "auto-patch" available from CE V1.2 to the "release day" version of T:ANE. Just launch your CE V1.2 build and the auto-patcher prompt will appear.
For Steam users, this update will happen via your normal Steam update process

Q. I have pre-ordered T:ANE. How do I access the pre-release version?
A. Log in to your MyTrainz account and click on the TANE-CE link then choose your download location.

Q. Will T:ANE run on Windows 10?
A. T:ANE currently works well with Win10 Pro Technical Preview 10049. We expect performance to generally be better on Win10 that Win7 or 8 but, of course, we won't know for sure until Microsoft release the product officially (expected later in 2015).

Q. What are the system specifications for T:ANE?
A.
Minimum: OS: Windows 7 64bit, Windows 8 64bit CPU: Intel i-series, AMD K10 or higher with at least 2Ghz Dual Core GPU: NVidia GT 430 or ATI 5550 or better, at least 1GB dedicated VRAM supporting DirectX 11 Memory: 4GB Hard Disk: 30GB free space Soundcard: DirectX-compatible Internet connection required

Recommended: OS: Windows 7 64bit, Windows 8 64bit CPU: Intel i5 3330, AMD FX 8350, QuadCore 2,3 Ghz or better GPU: NVidia GTX 660 or AMD HD 6950 or better, at least 2GB dedicated VRAM supporting DirectX11 Memory: 8GB Hard Disc: 30GB free space Soundcard: DirectX-compatible Internet connection required

Q. Performance is not as good as I was expecting - what are my options?
A. T:ANE delivers a brand new game engine which provides a huge update to the graphics capabilities. These features utilize any spare horsepower that your hardware can provide. By adjusting the performance options you can tweak what you see on screen and which graphics features you would like and balance performance versus looks to suit your needs. The Help:Video_Settings page details the various performance options available.
We have also provided a "quickdraw" hotkey - use Shift "-" to reduce your draw distance and Shift "+" to increase draw distance. Note that it can take up to 30 seconds or so to make changes depending on the density of the scene.
In addition to these settings, also ensure your hardware is performing optimally by shutting down other software such as chat and email programs and installing the latest drivers. Windows 10, when it is released later this year, is likely to boost your performance.
The final step is to upgrade your hardware (use google to compare your current hardware benchmark versus the latest hardware).

Q. How do I import content from older version of Trainz?
A. Not all content from older versions is "built-in" to T:ANE. Due to file format errors, you cannot import previously "built-in" content directly. We suggest that you import the route and sessions and then use the Download Station to import the missing dependencies (the DLS is currently being updated with the TS12 builtin content set).
Note that locally modified or downloaded content can be imported directly.

Q. Where are the in-game screenshots located?
A. The "Screenshot" icon appears on the menu bar. This allows users to take screenshots, review them , add tags and titles, and upload to the new Trainz Gallery on Trainzportal.com.

Q. Do splines and track sit directly on top of the terrain now or there is still a 0.2m offset?
A. There is no longer an offset applied when smoothing splines. This was originally coded to avoid z-fighting when floating point accuracy was a problem for computers. Now the problem is that legacy track will "float" and show a shadow. This is a small price to pay for the ongoing benefits and resolves one of the most talked about "problems" with older Trainz versions.

Q. Does the smoke from ANY locomotive (steam or diesel) automatically have collision or do they need to be edited?
A. By turning on PhysX (in the Launcher settings) you automatically get smoke collisions with "supported" assets, without further effort on your part. Content creators, please check HowTo/Configure_a_spline_for_collisions for more info on creating the appropriate spline config tags.

Q. How do I access the post-processing settings and other "Developer" settings?
A. In Launcher > Trainz Setting > Developer, tick the "Enable Advanced Debug Tools" option then restart TANE for this change to take effect. You can then access additional Developer Tools from the Developer menu option on the Launcher, such as in-game log or post-processing settings. Use these tools at your own risk.

Q. What does the red circle mean for procedural track?
A. When a red junction shows, this means that the procedural track cannot be drawn for some reason. Usually this means your turnout is too tight or too short.

Q. What tips do you have to laying new procedural track? A. To ensure the new procedural track looks as good as possible, we have implemented new "radius" and "length" limits. Experiment by moving your turnout track in and out towards the junction node, and then away from and close to your main track. You will see the junction "circle" change from white to red indicating the limits are reached. By using the Straighten tool leading into the junction, you can get a much more natural curve to your junction.

Q. Will this page be updated further?
A. Yes.


T:ANE Patcher
The auto-patcher appears when a new update is available on the patch server. You can also manually trigger the update by clicking Launcher > Trainz Settings > Install > "Check for T:ANE Updates".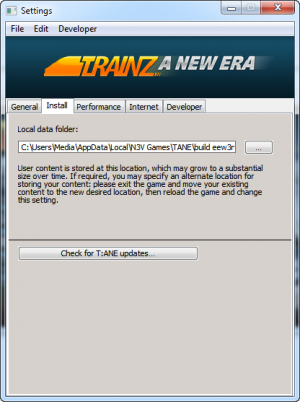 You will then be notified if a patch is available or not.





Simply click OK to begin the process which involves downloading the small T:ANE Patcher program.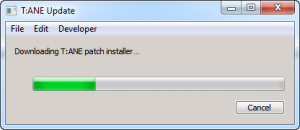 Once the Trainz Patcher is downloaded, you may see a request to provide permission for the patcher to access your computer. Click on Yes.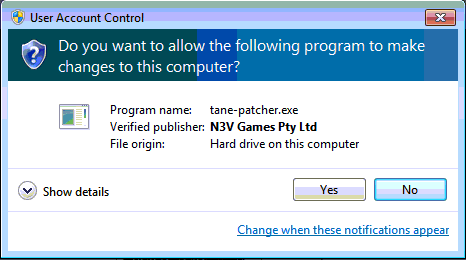 Once you click yes, the updating process begins and you can follow progress in the window as shown below.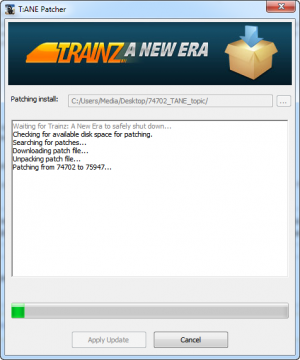 Patching Steps:
Waiting for Trainz: A New Era to safely shut down... This step may take a minute or so - you can help speed this up by manually closing any open TANE windows.
Checking for available disk space for patching.
Searching for patches...
Downloading patch file... The progress bar will show how long this step will take. The speed of the download depends on your Internet connection. A full patch may take several hours to download.
Unpacking patch file... This step takes the downloaded file and prepares it for patching
Patching from xxxxx to xxxxx... Again the progress bar will appear (after a minute or so preparation). This time this step takes depends on your hardware and could take from a few minutes to an hour or so.
No (more) patches at server for version: xxxxx
Updating Trainz asset database... This step is the final stage and may take several minutes.
Patch Complete
Troubleshooting:
If prompted, allow T:ANE Patcher.exe to make changes to your computer.

If you DO NOT receive the Patch Complete message, your update has failed and you are likely to have problems. We suggest that you reinstall the game and begin the process again.
If your T:ANE windows do not all shut down safely, close them manually (and select "Close" rather than "Wait" if prompted).
If you cancel the patch for any reason, you should see an error similar to the one below. If you don't your patch may not have ended correctly and dara may be lost. We suggest that once you start patchign you allow it to finish.

If you receive an error such as the one below, it is likely that your install is corrupt. You will either need to reinstall your original version and reapply the patch or access that latest full install version and install that directly.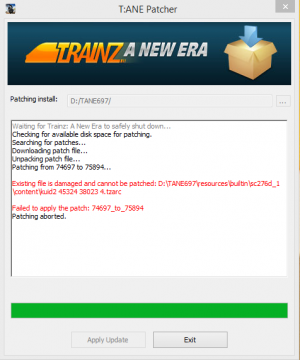 General Hints and Tips
If you are experiencing poor performance, read the tips at: Help:Video_Settings
Use Ctrl - to decrease your draw distance and Ctrl + to increase draw distance "on the fly"
When laying procedural track, use the straighten tool to lead into the junction to improve the junction shape.
When replacing old track with procedural track, delete any unnecessary spline points to improve the look of your junctions
When laying procedural track, red circles indicate either the turnout is too short or the angle is too great to create a nice looking junction. Move the turnout track section until the circle goes white (this applies when replacing old track as well).
Turn PhysX simulation ON to enable particle effects collisions (with supported splines and scenery assets). The option is in the Performance tab of the Settings page.
Cloning. If you highlight the asset you want to clone, you can either go to the Content menu in Content Manager and select the Clone option, or just hit CTRL+D to clone the asset.
See Also