Help:Getting Started temp
From TrainzOnline
Downloading TRS19
Once you have ordered TRS19, your TRS19 Early Access edition is available to download from your MyTrainz account using either the online installer or offline installer.
For information and help on downloading the full version of TRS19 click here: Help:Downloading
Installing TRS19
For information and help on installing the full version of TRS19 click here: Help:Installation
Starting Trainz for the First Time
When you start Trainz for the first time, there are a few steps that you will need to complete before you can start driving.
Performance Configurator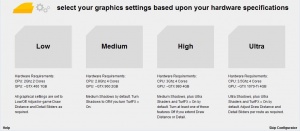 The first thing you will see is the Performance Configurator. The preset Performance Configurator options allow you to choose the best settings for your hardware specification.
If you want to benchmark your hardware against other users, please visit our Help:Performance Configurator page.
Click on the option you would like to choose, and then click ok on the window that appears. Trainz will then disappear for a moment whilst the settings are configured.
Launcher Screen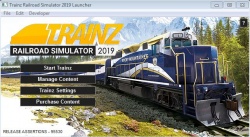 After the Performance Configurator, you will see the Launcher Screen appear. This is your main page to access the various functions of Trainz.
See TRS19 Launcher for information on using the Launcher Screen.
Signing into MyTrainz
Before you can start Trainz, you must first enter your MyTrainz account details into Trainz.
On the Launcher Screen, click Trainz Settings, which will open the Settings window.
Now click on the Internet tab, which will then show the screen in the image below.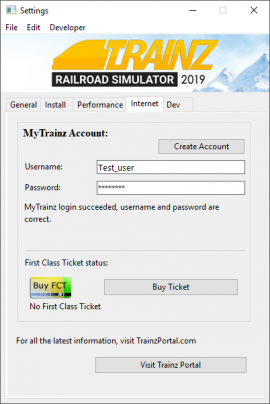 Please then enter your MyTrainz account's username and password into the boxes provided and press enter. Your username and password are case sensitive.
Now close the Trainz Settings.
Registering a MyTrainz account
If you do not yet have a MyTrainz account, then click on 'Create Account' above the username and password boxes, then follow the prompts to create a new account.
If you already have a MyTrainz account, then you should not create a new account.
Starting Trainz!
Now that you have entered your username and password, you are ready to start Trainz. Click on Start Trainz on the launcher screen!
Loading a session or tutorial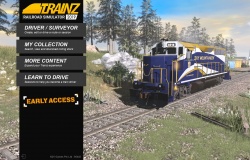 Once Trainz starts, you will see the new TRS19 Main Menu.
To learn to operate trains in Trainz, click on the Learn to Drive menu option, and you will then see the available tutorials shown. Select a tutorial in the list, then click on Drive Session to load the tutorial into Driver mode.
To load a regular session into Driver, click on the Driver/Surveyor menu option, and you will then see a list of the available routes in Trainz. Click on the route you wish to drive on, then click on View Sessions.
You will then see a list of sessions available for that route (note, if a route does not include any pre-made sessions then you will only see the Quick Drive session). Select the session you wish to drive, then click on Drive Session.
TRS19 Help Pages
TRS19 Help can be accessed in a variety of ways.
In-game click on the ? at the top right, and you will see the Trainz Help menu appear.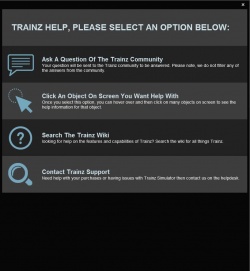 Here you can either ask a question of the Trainz community, search the Trainz wiki, contact the Trainz Helpdesk/Trainz Support, or you can choose the 'click an object on screen you want help with'.
click an object on screen you want help with
If you choose the 'click an object...' option, you will then be able to click on any game element where the cursor changes to the pointing hand icon. This will open a page with the appropriate TRS19 Help page.
Ask a question of the Trainz community
Clicking on this will first ask you to confirm your login details. If it shows the correct username, and shows that it has successfully logged in, then click the checkmark. You will then see a menu to ask the community a question.
Search the Trainz Wiki
Clicking on this will open the Trainz Wiki homepage, where you can then search Trainz Wiki, or follow the links such as this link to TRS19 Help.
Contact Trainz Support
If you need help from our Technical Support team, click on the Contact Trainz Support. You will then be taken to the Trainz Support page, where you can view the knowledgebase, or follow the Troubleshooter (this provides access to submit a support ticket to our support team). To submit a ticket to our support team, you will first need to log in.
Installing TANE Content and DLC into TRS19
All the TANE built-in, Deluxe and Platinum content, as well as your TMR2017 routes and TANE DLC items can all be downloaded in-game. Just log in to TRS19, and download the assets that appear in the Asset Download window. For more help, please check In-game Downloading.
You cannot install Built-in or DLC content (e.g. From TS12, TANE etc) using Content Manager or manually copying files. You must download the new packages for TRS19 using the in-game Asset Download window.
Installing Locally Modified into TRS19
All your files downloaded from the Trainz DLS, from 3rd party sites or created by you in Trainz can be imported into TRS19. For guidance with this process, please check Importing Content.
You must not set TRS19 to use the LocalData folder for Trainz: A New Era or any other version of Trainz. Doing so can cause Trainz to become unstable, or cease to function correctly, and may damage any content in the LocalData folder.
What's new in TRS19
TRS19 introduces many new features or changes to Trainz. Many of the new menus and features can be found on the TRS19 Home Page
Edit Trains in Driver
The 'Edit Trains' tool (aka the Trains Tab) has now been moved, and is found in the Driver Tools Menu.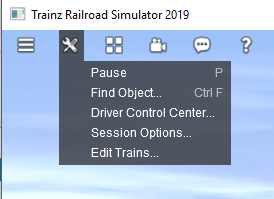 Changing the Driver Mode

To cycle between Simple (DCC) mode, Realistic (Cab) Mode, and AI (Driver Command) mode, click the three small circles on the bottom right.
TIP: Click the Driver Underlay button to add a black background to the Driver UI.

Go back to: TRS19 Home Page