TrainzOnline:Content Creation Projects
From TrainzOnline
TRS19
This section is to showcase upcoming content for TRS19.
Frecciarossa
Trenitalia's ETR 1000 Frecciarossa is created by 3DZug.
TS2009
Submissions Closed: If you have a project or individual content items that you would like to submit for inclusion in TS2009, please provide details here. This could be scenery items, locos or fully fledged routes. Include a link to your Content Creation Groups page if applicable. Projects will be chosen with a focus on quality and ability to deliver on time. Content made to TS2009 specifications and quality guidelines is preferred (TBD- normal mapped, quad-detail terrain, etc.) Use the 'edit' button on the top toolbar to add your entry.
Submissions
Your content submission here - Your content creation group or individual profile here - Project description here. Please include current status and estimated time to complete.
Routes
Peter Ware [pware] - I am continuing work on my SAR Peterborough series with the section from Peterborough to Mannhill - about 130km. Approx 20% complete and estimate completion about 5 months away. I currently have three other layouts of the same series on the DLS (Peterborough - Quorn, Peterborough - Terowie, Peterborough - Gladstone). None are based on DEM data but use eleveation data from Google Earth (manually applied). I have merged the three DLS layouts into a single large layout but have not yet uploaded it to the DLS - I am waiting to complete and add the Mannahill section before releasing it. Any (or all) of these would be available for use on TRS2009.
titaniclover - Shipwreck Island & Shangri La Full Edition - Shipwreck Island, based off the novel "And Then There Were None" By Agatha Christie, is a run down line found on an island far off the coast. The only way of contact is by a small fishing harbor. (Project is entering final stages of completion.) Shangri La Full Edition is a revamp/expansion of the original Shangri La layout. Mixing bits of some of the built-in routes to TRS2006 like City & Country USA, British Mainlands, Industrail Wasteland, and Highland Valley to create an interesting and scenic running layout with mountains, rivers, sea, city, country and more. (To be complete by end of summer 2008.)
Chrisracer8903 & RRmods.com - CN/ GTW Holly Sub, CSX Saginaw Sub, Conrail Lincoln Secondary and Detroit Connecting Railroad. All these routes except the Detroit Connecting Railroad are currently at the Trainz Download Station, but have expanded the branch-lines and added greater details than the current versions avalible. Status: All routes complete, Detroit Connecting Railroad just needs more beta testing around BOC Yard. Estimated: A few weeks. I decided to add on the Saginaw Sub west of town through Salem Hill so there can be sessions involving the 2-3 weekly coal trains that need a push from the local switcher in Plymouth. Also, adding the Alburn Hills branch to the GTW Holly Sub.
Virtual British Rail - Severn Valley Railway and Mid Norfolk Railway - Two high quality British preserved railways set in the present. To be built from TransDEM data. It will include custom built scenery and building and some of the railways diesel rolling stock, including a new Class 20, Class 56, Class 14, Class 52 and Class 101. Currently in Research and Planning stage, Est. Finish December 2008
misterchugg - caboolture to rockhampton. very long run but not to dem data. typical of the route with most stations in place. cannot be fully tested as it crashes constantly in my TC 1+2. hope to be finished before december 08. setting from the transition era to the present by changing vehicle data in route config file
Cheops - Fictional Britsh Railway based on operational experience (from a Guard's perspective) covering steam, diesel and AC motive power. Including mixed signals. It will be as large and as complex as 4Gb memory will allow. Both frieght and passenger operation can complete by Dec 2008. Finshed awaiting testing in 09
PVincent342 - Trainz Commuter Rail - PROJECT CANCELLED
Zwabberaar - On offer is a micro route based on a model train lay-out. The subject of said route is a logging operation and the lay-out promises some great shunting possibilities in combination with running a small business type railroad company. This all comes without the need for miles' long driving sessions thus creating the perfect solution for people without the time to run 1 hour plus sessions. I am a one-man party at the moment and welcome content creators to supply this short route with the necessary content, like building, scenery and rolling stock. Examples of my previous work can be viewed in my image gallery and progress on building the same rout in a TrainClassics version can be followed in my blog entries.
Rolling Stock
MichaelWhiteley. I am currently creating a class 50 to replace the original Auran Class 50. This one will have more details (mesh and textures) and more features. I have already released one, however that one wasn't very good and I thought was very disappointing, so I have started again and this one is looking much, much more successful!!
It should be finished sometime this month. Progress: Everything is going to plan. The loco is now in TC3. I now have permission for the engine/engine sounds/horn sound thanks to Crazy, Nameplate script (easily select nameplates with numbers thanks to Eldavo. Still need to sort other things out. The loco and bogeys are about 90% complete, the script is about 99% comlelte and the attachments…that's about 60% done. So all in all it should be done by this mounth! Normal maps can be added and the textures and mesh are suitable for LODs. Pictures: 1 image 2 A new skin: image 3 < Still needs plenty of work! I hope to do all liveries. Also if some one would like to create a reskin it is mapped out so it simple to do so! I do work on my own but I am happy to work with and for group and to work with each other to get things done.
GreatEastern (Andy Littlejohs) - British Rail Class 60 - Project to model the British Class 60 locomotive. This is well on its way, with the cab being worked upon now. Other remaining tasks are LOD models, a few textures and the Engine Spec.
VinnyBarb - Australian diesel locomotives like the AN Class updated for TRS09 with scripted driver/headlights and marker lights change, SAR Bluebirds DMUs, upgraded Southern Railways (possibly with AN and SAR liveries too) Ghan-, Indian Pacific- and SAR Overland coaches with animated doors and passengers enabled, scripted marker lights change and some others - http://www.the-commander.com/screens.htm, possibly the Adelaide Transport 2000-[2100] and 3000-[3100] Class DMUs and AN CLP and CLF Class diesel locomotives. Currently working on upgrades of most and planning and research and progress of the others as well as TRS09 upgrades with normal maps to most of my TRS04 created buildingd etc.. Est. finish late 2008 or thereabouts.
Earl White(Apogee10) - I created 3 streetcars that are prototypes of the New Orleans streetcar system. Desire Streetcar is the historical streetcar that operates on the St Charles line. Riverside Streetcar operates on the Riverside line and Canal Streetcar operates on the Canal Blvd line. The models were created for TRS2004 and will need updating as required for TRS2009. The streetcars are on the DLS.
Euphod - I am in the process of updating the Pacific Locomotive and Tender to meet TC 1&2 error checking requirements. I then plan to update to TC3, and intend to have them released with 2009, if possible. The Pacifics are currently on the DLS. Certain signage and scenery items may also make it to 2009, and I would be happy to skin North American rolling stock for 2009 if I was given the information concerning same beforehand. As a member of TrainzProRoutes, and knowing we as a group are currently negotiating with Auran, I can't speak to route building, although I do have an idea for a quick route for North America that would not rely on much custom content.
Dylanviey - Trainz Commuter Rail - Southern SW1 #1004, The ETA for completion Update: some time in the next week or 2 as long as i don't com across any new snags. .has platform for safely walking from the locomotive to a passenger car. Also a Custom Cab may be ready by December. But until than it's using the default SW cab. Also if you want to use one of my Other SW1's already released or still in the works. I can also make them a priority and get their "improvements" out faster. they are my first ever model so theres defiantly room for improvements witch i plan to improve sooner or later. Custom trucks are also an idea for a later date. if there's any other of my projects that i am currently working that you all would like in TS2009 than just ask. i can put anything as a priority and finish it quicker by putting off all other projects and only working on that one project all day long.
trw1089 - Tuscan River Works - Union Pacific 2-8-0 (about 2 weeks work left on texturing, and a couple for a new cab), any of my existing items, locos, buildings, sound packs. Further sound modifications and enhancements (e.g. stereo 32bit support). Previously developed P32ACDM for TC1&2 in 4 weeks, with custom cab, custom sounds (engine and horn), plus updated/reskinned other content (shoreliner III cars) and assisted with sound packs etc.
Dylanviey - Trainz Commuter Rail - New Jersey Transit Bi-levels, ETA some time in December (hopefully) going to feature fully prototypical interior, Fully operating cab car, accurate trucks. passenger interactive. I'm also hoping to make an ALP-46 to go with it. Progress photos are on the auran forums under freeware "NJT Bilevel"
USLW Team - US Locomotive Works - Trinity 2 Bay covered hopper (waiting to finish up normal mapping)
Pulpwood and Flatbed Bulkheads (also waiting on normal maps)
Lilb-I will be including my GE 25 Ton and maybe some more engines and rolling stock. Some of the rolling stock I will be doing: F30A Class 40ft Flatcar, 40ft Boxcar, 40ft Tank Car and maybe some more. You can see the progress of these at my Forum : http://lilbscreationz.freeforums.org/index.php . The GE 25 Ton should be done in a 1-2 weeks. The cars 2-3 weeks.
Tom Anderson [lesley] and Zec [S301] - Victrainz - Victorian Railways IT Wagon. Uses the 'Supercript' to handle the running numbers and ground shadows. The model has normal maps and two stages of LOD. Carry's both the Auran Lumber and my own Timber Load (which also uses normal maps). Visit the Victrainz Forums to see pics. The model is currently on the DLS.
Scenery
pommie - Any of my skies already on the dls that are deemed good enough to use, I am also going to do some for 09 only (only one done so far), if you want I could submit it/them for consideration for inclusion.
Pencil42 - Carson Car Shops - industry interactive water tower for refueling steam locomotives. If time, update my early 20th century box car, flat car, and ventilated box car reskinned for generic owners and a light truss bridge.
USLW Team - US Locomotive Works - Several ground textures ,Crossings, Road splines, and multiple industrial buildings.
Multiple Categories
EdeTrainz - Enjoy the content that we show here, register to be informed of the developments, make your comments and do not forget to vote for articles published, if you want to work with us using the contact form..
Hana Warau - Magickmaker - Accurately detailed Japanese branch line set firmly in the steam days of Japan. Featuring realistic period models as well as wide vistas and scenic opportunities. Status: Under construction, should take about 9 weeks to complete. May include Japanese steam locomotives and stock.
SVoyager - TRS could use a modern subway route for a change. May it be the Stockholm's tunnelbana layout or the u-bahn or some other. The T-Bana has already a section of one of its lines completed and the C20 is also mostly done for it (and i will upgrade it to trs2009 standards as soon as these are clearly set). C20 and T-Bana homepage
Darjeeling Trainz - We have released the DHR to the TRS community a while ago and have been talking about expressing interest in having our layout and scenarios included in TS09.
S301 - ZecRail content - Any of my Victorian Railway content that is deemed to be acceptable for TRS09. I would be more than happy to update it to TRS09 specs. Currently working on a Victorian Railways T class locomotive that might be suitable, although more designed for use in TRS04/06 at the moment.
FMA, HO TTrainz, ZBF - creators: Guriga, Vendel, Sura, ZemplénIC. All our abilities are offered for helping to develop the "best train sim ever". Those are the contents on DLS, the content on our website, the Debrecen-Nyíregyháza layout we released last time, inclusive scripting and programming abilities. An example from the extension of the route Debrecen-Nyíregyháza: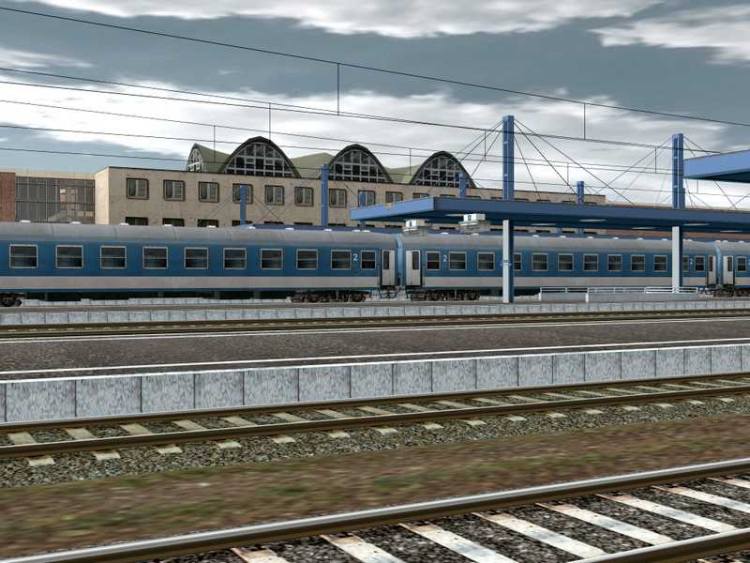 Debrecen Station created by Guriga. The train on the image is a not released FMA product.
Carré Web, le monde du train! : Since 2006, content creators from Carré Web, le monde du train! make quality freeware for Trainz Railroad Simulator.
Trackside Objects, Routes, and also Scenery, Tracks and Trains (soon) from France and other countries are proposed for download.
As there was few French material integrated in the previous versions of TRS, we propose a set of scripted signals and reflective signs to be integrated in TRS 2009. Please download our pack here : http://www.carreweb.fr/temporaire/French%20Signals%20and%20Signs%20(SNCF).zip . Enjoy ;-)
Other
Dylanviey - Trainz Commuter Rail - If you want you can use my GG1 Tyfon A-200 horn replacement for the GG1. So the GG1 will have an accurate horn
for TS2009. It's currently up for download at TCR but there's a few things I probably would like to update before it's put in to TS2009. (EDIT: the update is done but i've noticed in the beta that u used someone else's A-200 o well)
6900 - Moved from the rolling stock section, assuming locos are going here...I'm willing to contribute my C36-7 (UP,NS,MP)as well as my SD90MAC-H and SD9043MAC (both UP). I have started to retexture and bump map my U50C to bring it up to the level of these two, however is a very slow process. The only problem is that they all use stock cabs as of now. I would be willing to give a cab a shot if I could get adequate photos of cab details. They are all on the DLS now, except for the U50C which is an old version that would not be good enough. The SD90MAC-H on the DLS has a slight white halo around the door locks. This was corrected on the 9043, and I do have an updated version of the -H that I never got around to uploading, but that should not be a problem.
Boston Main Signals (7)Completed, tested in TRS2004,06,09 now working on the Gantry Signals to complete the collection. See My Profile for Screenshots, Damon 61556