Help:TRS19 General Settings
From TrainzOnline
The General Settings provide a range of settings that enable some additional features and functions in Trainz.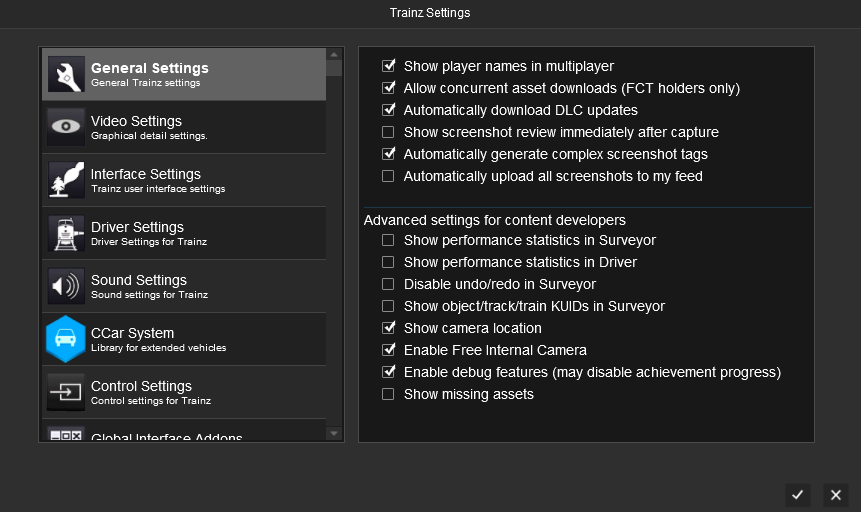 Show player names in multiplayer
Enables or disables the names above trainz when in a multiplayer session.
Allow concurrent asset downloads (FCT holders only)
Allows multiple downloads in the Asset Download window at the same time.
Concurrent asset downloads requires an active First Class Ticket in your MyTrainz account.
Automatically download DLC updates
Disabling this option will be prevent the Asset Download window from being shown when you Start Trainz and have a new DLC pack available for download.
Show screenshot review immediately after capture
When enabled, the screenshot review window will be automatically opened after you capture a screenshot.
When enabled, tags will be automatically generated for screenshots that you have captured. These tags will show the route, session, and content being used when the screenshot was captured.
Automatically upload all screenshots to my feed
When enabled, all screenshots that you capture will be automatically uploaded to your feed on the Trainz Gallery.
Advanced settings for content developers
The following settings are intended primarily for content developers. In some cases they may cause unexpected outcomes when enabled.
Show performance Statistics in Surveyor
Provides runtime performance statistics for routes/sessions when in Surveyor.
See Runtime Performance Statistics for further information.
Show performance statistics in Driver
Provides runtime performance statistics for routes/sessions when in Driver.
See Runtime Performance Statistics for further information.
Disable undo/redo in Surveyor
Disables the undo/redo functions in Surveyor. This may provide better stability if you are making lots of changes, but you will not be able to use the undo functions.
Show object/track/train KUIDs in Surveyor
Will display the selected asset's kuid at the bottom right corner of the screen in Surveyor.
Show camera location
Will show the camera's current coordinates on the route at the bottom left corner of the screen.
Enable Free Internal Camera
Will enable the 'Free Internal Camera' when in the cab view in Driver. This will display the current coordinates for the camera (relative to the cab's origin) at the bottom right in the following format: X,Y,Z,Yaw,Pitch - these are provided in meters for the X/Y/Z location, and in Radians for the Yaw and Pitch.
You can move the camera using the arrow keys, and page up/page down.
Enable debug features
Enables the debug features for content creation. In particular will allow you to speed up a session using the Shift key. Note enabling this may disable achievement progress.
Show missing assets
Will display an orange wireframe box to mark the location of any missing assets in Surveyor.
Return to TRS19 Home Page - TRS2019 Driver UI - Driver Main Menu - TRS19 Help