Help:Driver MenuTools
From TrainzOnline
Tools Menu
The Tools Menu provides access to tools related to driver sessions.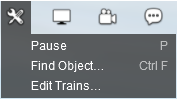 Pause (P)
Pauses Trainz.
Find Object (CTRL + F)
Allows you to search for/find specific named objects on the route.
Edit Trains
Opens the Trains Tab to allow you to add, move, remove, and change the properties of trains on the route.

See Also: