Help:Installing TRS19
From TrainzOnline
(Difference between revisions)
Line 15:
Line 15:
 

[[File:2019-01-11 104222.png||400px]]<br><br>

 

[[File:2019-01-11 104222.png||400px]]<br><br>

 

When the Asset Download window appears, you can choose to Download All, or download one route at a time (by selecting and downloading each part individually).

 

When the Asset Download window appears, you can choose to Download All, or download one route at a time (by selecting and downloading each part individually).

 
+
 
+
 
+
 
+
 
+
 
+
 
+
 
+
 
+
 
+
 
+
 
+
 
+
 
 
 

NOTE: For Steam users, the names of the routes show as the internal "resource ID". For a list of the names that correspond to the resource ID, please visit [[Help:In-game_Downloading#Complete_DLC_Listing|this page]].

 

NOTE: For Steam users, the names of the routes show as the internal "resource ID". For a list of the names that correspond to the resource ID, please visit [[Help:In-game_Downloading#Complete_DLC_Listing|this page]].

 
 
−

If the Asset Download window does not appear, close the game window, and from the Launch window click File > Download Puchased Items. Then click Start Trainz and the Asset Download window should appear.  

+

If the Asset Download window does not appear, close the game window, and from the Launch window click File > Download Items. Then click Start Trainz and the Asset Download window should appear.  

 
 
 

==Troubleshooting==

 

==Troubleshooting==
---
Revision as of 15:24, 9 December 2020
Installing from MyTrainz
Digital Edition
If you have ordered from the Trainz Store, then your digital edition is available in your MyTrainz account.
Log in to MyTrainz, click on the "Download TRS19" menu option on the bottom left. Choose from the offline or online options, then begin the download.
Unzip the folder using a utility such as Winzip, 7Zip etc, then run the installer.exe
Installing Additional Built-in Routes
To keep the initial install TRS19 install as small as possible, the base install includes the Kickstarter County 2 route, plus a Sample Content route.
The remaining 5 built-in routes are available for in-game download via the Asset Download window. These additional routes are free, and are downloaded at the maximum speed your Internet connection can deliver.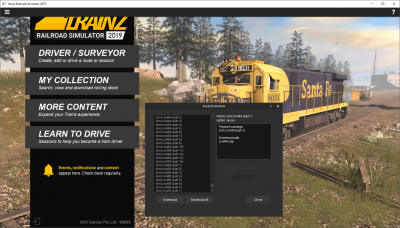 When the Asset Download window appears, you can choose to Download All, or download one route at a time (by selecting and downloading each part individually).
If you have Trainz Plus or TRS19 Platinum Edition, you can download your additional content using the Content Store Downloader.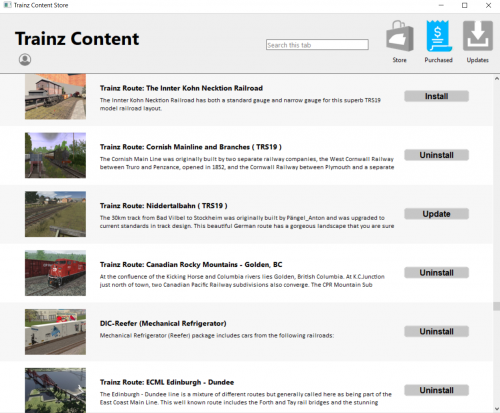 This will also allow you to:
View all available DLC items
View current status (Installed, Owned but not installed, Available to purchase)
View details of DLC packages including description, build version, ID (SKU/Resource ID)
Filter by Owned or Update Available
Purchase new DLC from Trainz Store
Install and uninstall DLC packages
Search DLC lists
NOTE: For Steam users, the names of the routes show as the internal "resource ID". For a list of the names that correspond to the resource ID, please visit this page.
If the Asset Download window does not appear, close the game window, and from the Launch window click File > Download Purchased Items. Then click Start Trainz and the Asset Download window should appear.
Troubleshooting
If you are still having difficulty installing the in-game content, please visit this page for help.
Importing Additional Content
Trainz is famous for the additional content found on the Trainz Download Station.
For details on how to find additional content, click on this link.

Go back to: TRS19 Help Page