Help:Mini Map
From TrainzOnline
The Mini Map provides a map of your route, and allows you to navigate the route from the 2D map.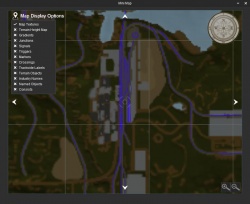 There are three ways to move around the minimap.
Use the arrow buttons around the edge of the map
Right click on a location on the map you want to go to
Hold the CTRL key, and use the left/right/up/down arrow keys
You can zoom in and out of the map using the following three methods:
Use the '+' and '-' magnifying glass buttons to zoom in and out respectively in the map window
Press Page Up and Page Down buttons to zoom in and out respectively.
Scroll Up and Scroll Down with the mouse wheel to zoom in and out respectively.
You can rotate the map by holding the Shift key and pressing the left and right arrow keys.
Compass
The compass at the top right corner will show you which way on the route is north.
Map Display Options
The map display options allow you to turn on and off the following features on the route.
Map Textures
Terrain Height Map
Gradients
Junctions
Signals
Triggers
Markers
Crossings
Trackside Labels
Terrain Objects
Industry Names
Named Objects
Consists
Return to TRS19 Surveyor Main Menu
Return to TRS19 Surveyor
Return to TRS19 Help Page