Help:Add Random Scenery
From TrainzOnline
The Add Random Scenery tool is used to add random scenery across either your entire route, or portion of your route.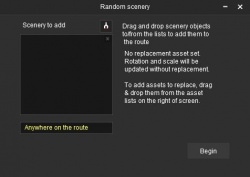 Add Assets to the Scenery to Add list
There are two ways to add assets to the Scenery to add list.
The first is to simply drag and drop them from the Objects tab.
The second is to use the Add Random Scenery "Get" tool. Using this you can quickly add a range of items into the "Assets to Update" window.
Just select the tool then move around the world clicking on assets you want to add to your Scenery to add list.
You can drag any items you don't want including off the "Random Scenery" window.
Area Selection
You can select from 3 area options:
Anywhere on the route
In the current section only (i.e. part of a baseboard near to your camera)
In selected area. When this option is selected, you can use the marquee select tool to outline the area you want to affect.
Return to TRS19 Surveyor Main Menu
Return to TRS19 Surveyor
Return to TRS19 Help Page