CCG/Kind: HornSound
From TrainzOnline
KIND: HORNSOUND
This is the traincar horn sound, referenced by the hornsound tag in a traincar config.txt

Hornsound Directory Structure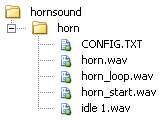 Hornsound config.txt
kuid                   <kuid:56113:1273>
trainz-build           2.5
category-class         "ZH"
category-region        "AN"
category-era           "1950s;1960s;1970s"
username               "testHornsound (2 Part)"
kind                   "hornsound"
two-part               1
thumbnails
{
  0
    {
      image            "thumb.jpg"
      width            240
      height           180
       }
}


two-part 1 Indicates that the Railyard and Driver hornsounds are different. The Driver hornsound is looping. If this tag is not present, the hornsound defauts to UTC equivalent non-looping format.

Sound files:
· horn.wav Railyard hornsound (non-looping)
· horn_loop.wav The looping hornsound used in `Driver'.
· horn_start.wav The starting sound played before the looping hornsound above.
· idle 1.wav Generally used for the bell sound (bell keystroke = b)
Return to CCG Index