Help:Main Screen
From TrainzOnline
(Difference between revisions)
m

m

Line 6:
Line 6:
 

{{clear}}

 

{{clear}}

 
 
−

In Trainz 10 (T10), the available choices are: TUTORIALS, ROUTES, SCENARIOS, SAVED SESSIONS, RAILYARD, and CONTENT UPDATES.

+

In Trainz 10 (T10), the available choices are: TUTORIALS, ROUTES, SCENARIOS, SAVED SESSIONS, RAILYARD, and CONTENT UPDATES.

−

 

+
 
 
 

=== Main Menu Button ===

 

=== Main Menu Button ===
---
Revision as of 15:49, 10 September 2014
Main Screen (Home/Main Menu)
The Main Screen or Homepage provides a number of menu options and displays a variety of sub-menus as tiles. To access one of the sub-menus simply click on the desired tile. If you're new to Trainz you should start with the "Tutorials" or "Learn to Drive" menu, which will teach you the basics of how to drive a train in simple and advanced modes.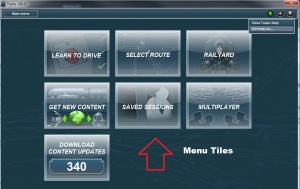 In Trainz 10 (T10), the available choices are: TUTORIALS, ROUTES, SCENARIOS, SAVED SESSIONS, RAILYARD, and CONTENT UPDATES.
Main Menu Button
On the top left of the menubar is the Main Menu button. Depending on which module you are in, the Main Menu button will offer a variety of options and settings to enhance your Trainz experience. You can also Exit the game from this menu.
The Help (?) Icon

On the top right of the menubar is the Help (?) icon. The Trainz in-game help system allows you to display help for many different aspects of the game. Not everything has help but because the help system is wiki based, it is growing all the time.
To get help for a specific game feature first click on the help icon in the top right of screen, it will appear as an arrow with a '?' icon. You are now in help mode. Once in help mode you can move your mouse over the desired feature in game and it will change to a pointing hand when help is available. As you move the mouse over an element that has a help page you will see the input box text change. You can also type directly in to the displayed input box to search for help on a specific topic.
The Web Browser (+) Icon
Trainz comes complete with an in-game browser that points directly to the wiki page. You are also able to use this browser to find out more about Content Creation, How-To Guides, or even personalized pages for individuals. Explore the wiki to see what treasures you can uncover.
Trainz Chat (Head) Icon
The iTrainz Chat icon will show green if there are other people online. It will show orange when a new chat message is received. To use chat, simply click on the green icon, then choose the #trainz channel to meet fellow Trainz fans. You can also create your own channels, invite buddies to chat and open multiple chat windows simulataneously.
Do you want to help expand the Wiki?
A wiki is a website that allows its users to add to and modify its content with a normal web browser. A wiki does not require its users to have knowledge of HTML or other complex markup languages. Many pages can be edited in plain text, with just a few special tags being used for formatting, headings, and creating links.
This Trainz help all resides within an editable wiki, which any Trainz player can view, modify and contribute to. So if you encounter a help page which is blank or you think it could be improved, jump in! Simply use the "Log in" link in the top right corner to log in to the wiki using your Planet Auran account, then navigate to the desired page and click the edit link. Abuse and vandalism of the Trainz wiki will not be tolerated and may result in your Planet Auran account being banned from all online services.
For specific information about the markup language used in this wiki please see the official MediaWiki website. Note that unfortunately this website is not accessible in game, and must be viewed in a standard web browser outside of Trainz.
The Forums
If you are unable to find the help you need on the wiki head over to the forums! The Trainz community is vibrant and friendly, and we're very proud of the comaraderie among our many like-minded fans. Like the wiki you can log in to the forums using your Planet Auran account. Once logged in we recommend you search the existing threads to see if somebody else has already answered your question. If you cannot find the answers you need then simply start a new thread in the relevant forum for your Trainz version.
Not only are the forums a valuable resource for getting help, they're also a great place to meet like-minded players and train enthusiasts from all over the world. Check out the various sections of the forums for everything from help to screenshot sharing, organising multiplayer games, announcements about custom content and upcoming releases, general discussion, and more.
Click here to access the forums now
See Also