Help:Help Mode
From TrainzOnline
(Difference between revisions)
m

m

Line 1:
Line 1:
 

'''Congratulations! You are now using Trainz In-Game Help Mode!'''

 

'''Congratulations! You are now using Trainz In-Game Help Mode!'''

 
 
−

Chances are you have arrived at this page by using the (?) in Trainz then clicking on the (?) icon.

+
−

 

+
−

This means you are well on your way to discovering much more about how to use Trainz.  

+

you the (?) in Trainz

 
+

then the icon .

 
 
 
+
 
 
 

[[File:Help_mode1.jpg|300px|thumb|left]]

 

[[File:Help_mode1.jpg|300px|thumb|left]]

 

{{clear}}

 

{{clear}}

 
 
−

When you select the (?) icon, then choose "Get help on..." your cursor will appear as either an arrow with a (?) or as a hand pointer. (Prior to TS12-SP1 onwards just click on the (?) to get your cursor).

+

When you select the (?) icon, then choose "Get help on..." your cursor will appear as either an arrow with a (?) or as a hand pointer .  

 
+

Prior to TS12-SP1just click on the (?) to get your cursor.

 
 
−

Move your mouse around the page, and hold the cursor over a game menu or button (or even some objects if the creator has provided a link).

+

Move your mouse around the page, and hold the cursor over a game menu or button (or even some objects if the creator has provided a link).

 
 
−

Whenever the cursor shows as a hand pointer, you can click to display a wiki Help page about that aspect of Trainz. You will notice that the name of the help page appears in the box.

+

the cursor shows as , that .

 
 
 
+
 
 
 

[[Image:HelpGetHelpOn.jpg]]

 

[[Image:HelpGetHelpOn.jpg]]

 
+
 
+
 
 
 
+
 
 
−

 

+

again on the (?) icon, select "View Trainz Help" then search for related topics.

−

If the cursor shows as an arrow and (?) then there is no help available for that area.

+
−

 

+
−

Instead, hit Escape to exit help mode, then click again on the (?) icon, select "View Trainz Help" then search for related topics.

+
−

 

+
−

Once you have a wiki page open, you can also navigate through the wiki pages using links in the text or at the bottom of the page.

+
−

 

+
−

Press the Esc key to exit from HELP mode.

+
 
 
 

==See Also==

 

==See Also==
---
Revision as of 06:09, 18 October 2014
Congratulations! You are now using Trainz In-Game Help Mode!
Help about HELP Button!
Though it feels somewhat redundant, you probably clicked on the upper right (?) icon in Trainz, and then you hovered over the very same icon again with the hand pointer symbol and clicked.
You are on your way to discovering much more about how to use Trainz.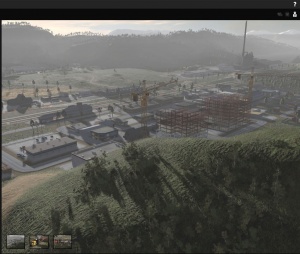 When you select the (?) icon, then choose "Get help on..." your cursor will appear as either an arrow with a (?) or as a hand pointer symbol.
Prior to TS12-SP1, just click on the (?) to get your cursor.
Move your mouse around the page, and hold the cursor over a game menu or button (or even some objects if the creator has provided a link).
When the cursor shows as an arrow and (?), then there is NO HELP available for that area.
When the cursor shows as a hand pointer, you can click to display a wiki Help page about that aspect of Trainz. The name of the help page appears in the UPPER RIGHT menu box.

Once you have a wiki page open, you can navigate through the wiki pages using links in the (usually blue) linked text or at the bottom of the page.
Press the Esc key to exit from HELP mode.
Click again on the (?) icon, select "View Trainz Help" then search for related topics.
See Also