Using Content Manager to Update Assets
From TrainzOnline
The information in this Wiki Page applies to both TANE and TRS19.
This guide will take you through the process of performing manual asset updates using Content Manager. Updates occur whenever new versions of assets installed on your system are uploaded to the DLS.

Both TRS19 and TANE will perform automatic updates when in Driver and Surveyor modes but you have little control over the process.
Set Up An Update Filter
Because this is something that you will probably be doing on a regular basis, it would be a good idea to create and save a CM filter to perform the task of searching for asset updates.
---

Step 1: Open a Filter


[

from the TRS19/TANE Launcher, select Manage Content
in the Filter drop down box, select Custom...

This will produce the following filter options...

---

Step 2: Configure ...


open the Asset KUID drop down box and select Out of date
leave the Out of date setting at True


This will produce the following filter options...

---

Step 3: Configure





delete the Name filter by clicking the (-) button on its extreme right


The final filter selection will look like ...

---

Step 4: Save


click the Save button
enter a meaningful name for your filter and click Ok


---

You can now select and run this filter whenever you want to check for and install any asset updates.

Updating Assets "Installed From the DLS"
If you run your new filter and see one or more updated assets available for download that were "Installed from the DLS", then the process is very simple.


---

Steps:


select all the items in the list shown as Installed from the DLS
right mouse click on any one of the items and select Download from the popup menu



If the items have any new or updated dependencies that are also on the DLS then CM will automatically find and download them as well

---
Updating "Built in and Base Assets"
The above method will not work for updates to assets that are either Built in or Base. If CM lists updates for built in or base assets as available for download then the process involves a few extra steps.

---

Steps:


select all the Built in and Base items shown in the list
right mouse click on any one of the items in the list. Note that the option Download is not available in the popup menu
select the option List Asset Versions

---

This will display all the available versions of the selected assets that are:-
on your system,
on the DLS, and
obsolete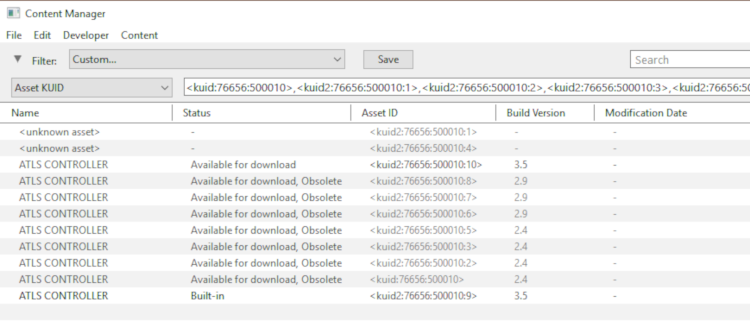 You may need to click the Status column heading once or twice to sort them into order and group all the Available for download assets together.
---

Steps:


select all the items shown in the list as Available for download
DO NOT INCLUDE items shown as Available for download, Obsolete (unless that is what you really want)
right mouse click on any one of the items and select Download from the popup menu



If the items have any new or updated dependencies that are also on the DLS then CM will automatically find and download them as well

---
Updating a Mixture of Assets
If CM shows a mixture of Installed from DLS, Built in and Base assets to be updated, then use the method described above for updating built in assets
---

Steps:


select all assets
select List Asset Versions from the menu
select and download all assets marked Available for download

---
---
---
Trainz Wiki
| | |
| --- | --- |
| | More Tutorials and Guides to Using Trainz |