Mobile-area-driving-select session
From TrainzOnline

Select Session
Once you have selected a route you will be taken to the "Select Session" menu.
A Session is an interactive experience involving one or more trains operating on the Route you have selected.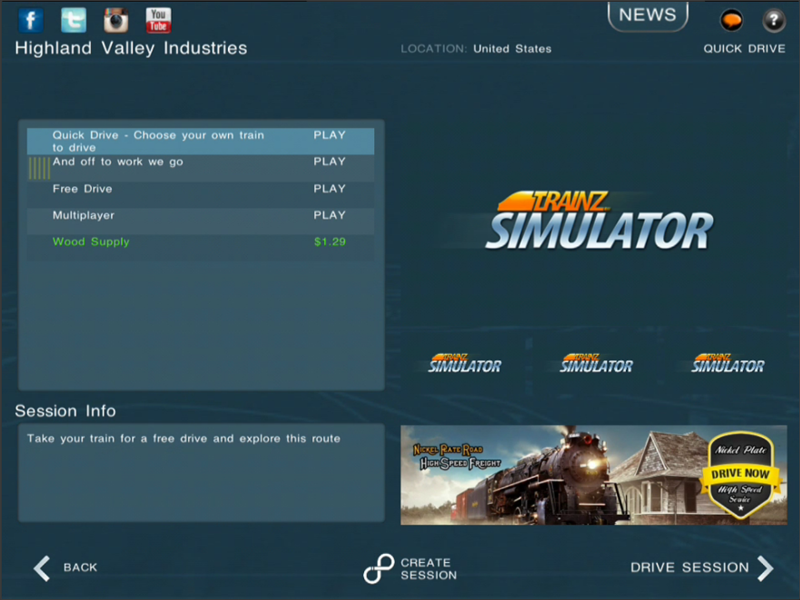 From this "Sessions" menu, the main things we will explain are:
SELECTING A SESSION
On the left-hand side you will find a list of sessions. Tap to display additional information which includes a short description regarding the Session. Once you have chosen the Session you want, tap the "Drive Session" button and the Session will begin loading.
EDITING A SESSION
Tap on any Session you own to enable the "Edit Session" option. This option means you can take the existing session and change the gameplay however you like. Note: Quick Drive sessions can not be edited.
CREATING A NEW SESSION
You can tap the "Create Session" button at any time. This will take you into Trainz world building tool called "Surveyor" and loads the Route which you will add the Session to. It's time to let your imagination run wild.
SESSION COLOR CODES
There are White and Green routes listed.
WHITE sessions are sessions that you own and are free to play over and over again.
GREEN sessions are sessions that you can purchase. This gives you additional gameplay on the chosen route. Once purchased you can edit the session itself as you own the content.

Go back to: Mobile-area-driving